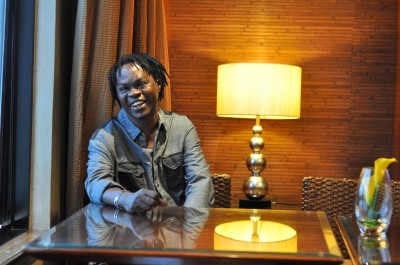 Born in Podor in Senegal's arid north, Maal faced opposition from his father before he was able to embark on a musical career. In the traditional society of their Fulani ethnic group, music wasn't a respectable occupation. But after studying first law, then Western classical music, he went on a journey of discovery through Senegal and neighbouring countries, learning songs along the way.
Baaba Mal is very passionate about his music, something that resonated throughout the interview. He says music is moving the world which is why he agreed to do the soundtracks. To him music allows listeners to see pictures and visualize what the words of a song say. It was easy to complement movies with this in mind. His latest soundtrack work is in the movie "Life in a Day"
He might be a successful artist in both Africa and the Western world, but he says a lot still needs to be done. He experienced a lot of challenges in conquering that world. " African music is still in a corner. It is difficult to make people change their perception of it," he says. One challenge he faced most was people putting him in a box and insisting he stays African.
Music is a universal language, something we can all understand and speak. It is easier to tell your story and have an impact felt using music than in speaking. Baaba Maal uses this to spread messages about the culture in his home that others put down. As a UNDP ambassador, he is fighting to spread messages of equalisation. With the music as a common language, he feels like the project will be a success.
When asked why West African musicians have an easier time spreading their music than their East African counterparts, his answer is simple; it's all about they promote and present their work. In West Africa you find people blending their roots with the music. Even if the beats are modern, the words are not, the costumes in videos are tied to where they come from. The artists are also close to the DJs and they help in forming connections.
When it comes to writing music, the people around him, especially my mother help him a lot . "My mother was a musician so her words greatly affect what I sing. I sometimes take her situations and change them to suit mine. The writing and recording of a song is what I am most passionate about. I let the ideas come to me and work on them," says Mal.
Mal has stayed true to his African roots in all things. He stresses that this is because he maintains the line of keeping the African feel in his music authentic. "Africans have something great and we need to preserve it. I try to do this in all my music."
Baaba Mal says Kenyan musicians can conquer Africa like their West African counterparts. He urges them to use the European market to do so. This is where Africans get influence of what to listen to. But most of all he says they have to learn to package their music. "They should go back to their roots, and speak of their traditions in their music."
Baaba Mal is set to perform this Sunday, June 15, at Capital FM's Koroga Festival. He says his performances are never planned. All the dance moves he promises to deliver will leave each of them learning something from it.