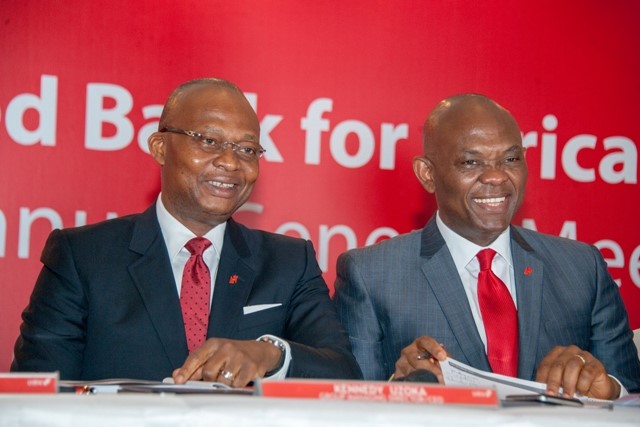 UBA Plc (United Bank for Africa), the parent company of UBA Kenya (United Bank for Africa – Kenya), has paid out USD 88 Million to shareholders for the financial year that ended 31st December 2016. UBA shareholders approved the payment of USD 65 million final dividend, in addition to a USD 24 million interim dividend that was paid after the audit of its 2016 Half Year Results.
The final dividend will translate to 0.0018 cent per ordinary share. The interim dividend was 0.0007 cent per ordinary share, bringing the total dividend to 0.0024 cent per share. This represents a 25% growth against the 2015 total dividend of 0.0016 cent per share.
UBA's profit after tax grew by 22 percent to USD 235 Million, up from USD 195 million in 2015. The banking group recorded 22% growth in gross earnings to USD1.25 billion in 2016, from USD1.03 billion in 2015.
UBA Plc is a pan-African financial services group with presence in 19 African countries, as well as the United Kingdom, the United States of America and France. It was incorporated in Nigeria as a limited liability company after taking over the assets of the British and French Bank Limited who had been operating in Nigeria since 1949.
UBA Kenya started operations in 2009 and it currently has three branches situated in Apollo Centre Westlands, Enterprise Road Industrial Area and NHIF Building Uppherhill. UBA Kenya Bank offers the full range of business and alternative banking products through its extensive range of debit and prepaid cards, Internet Banking and Mobile banking platforms.