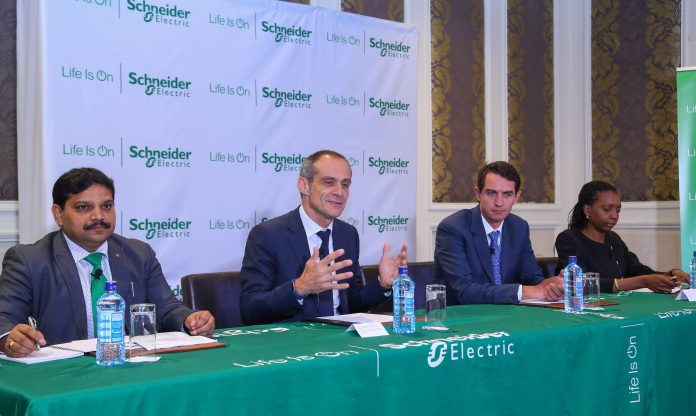 Schneider Electric Foundation in partnership with Salesian Don Bosco Foundation in Kenya on Saturday inuagurated the new electrical lab at the Don Bosco Boys Town Technical Institute in Nairobi. The ceremony, which was held at the institute was attended by Jean-Pascal Tricoire, Chairman and CEO of Schneider Electric; Edouard Heripret, President East Africa zone of Schneider Electric; Father Miguel Ange, Director of the Don Bosco Boys Town Technical Institute; Father Giovanni Rolandi, Provincial Superior of Don Bosco East Africa; and H.E. Antoine Sivan, Ambassador of France to Kenya.
The project involved renovating the existing electrical lab and integrating a solar energy module. It follows a partnership agreement signed in May between Schneider Electric and the Salesian Don Bosco Foundation East Africa to renovate three Don Bosco training centers in Kenya.
Every year, the Salesian Don Bosco Foundation provides vocational energy training to approximately 200 young Kenyans at three centers in Karen, Makuyu and Embu. Through this agreement, Schneider Electric is providing financial and technical support to renovate the electricity labs at the three centers and launch a solar energy training module.
The company will also offer training to local trainers to update their skills and help them manage the new equipment through Schneider Electric Teachers, an NGO enabling employees to share their skills with underprivileged populations on a volunteer basis. Schneider Electric will also help the Salesian Don Bosco Foundation obtain government approval for its solar energy training in Kenya. These agreements with the Salesian Don Bosco Foundation will allow Schneider Electric to reach its objective of training one million people.
The training will take part over a period of eight years. By 2025, the one million trainees are expected to have have gained the requisite skills that will enable them to work in the renewable energy industry in Kenya.