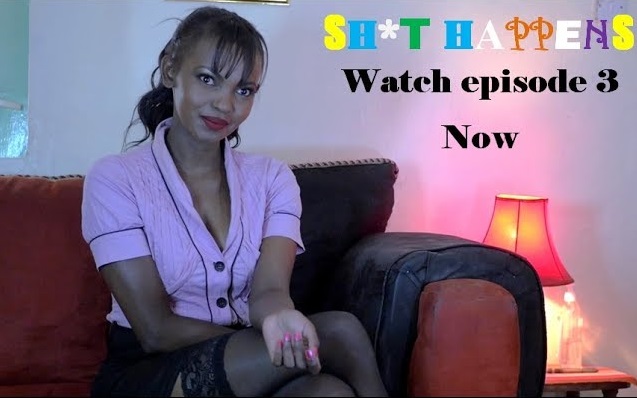 I rarely have the patience to watch a feature length film or an episode that is longer than 30 minutes. It's the reason I'd pick a web series over a TV show.
They're hardly longer than 10 minutes, they're free on YouTube, and you don't have to wait for forever for a plot line to develop. I watch web series from all over the world, but here are my picks for Kenyan web series'.
1. #ShitHappens
Gerald Langiri produces, directs and stars in this series and you can take it from me, this comedy show does not disappoint. From the description, the show is a shitty web series that takes you through the life of a guy who goes through, well…shit. And he has the worst luck in the world. In the first episode, he farts in the lift while standing next to a beautiful lady, gets caught watching porn in the office by the office snitch and is cussed out for being a pervert.
Each episode is 5 minutes and 55 sec long. It's R-rated for shots of nudity and strong language. Watch the first episode below.
2. Adesh
This three part web series is developed by Giza Entertainment. The action series is about an ex gangster called Adesh who is captured by his former crew and his girlfriend kidnapped by the head honcho of the gang. He has to figure out a way to escape and save his girlfriend as well as find out what the true motives of his former gang are.
The action scenes are well done and they seem quite realistic. In my opinion, I felt that the writers  dwelt so much on scripting the action scenes and didn't spend enough time on plot development. But then for a series with three episodes each 6 minutes long, they did a good job.
3. Serving Single
I really enjoyed watching this episode because of how relatable it is. Most of us have been in a situation where we've gone the extra mile  and done some ridiculous things just to get laid. Sometimes you're successful, other times, you fall flat on your face. Eugene, the star of this episode is no exception.
He picks up a pretty girl from the club and the following morning, he decides to prepare for her a romantic breakfast in bed. He shows us how to make the meal using his signature love portion, black pepper. He assures us that his plan is 100% foolproof and you just have to watch to find out if he succeeds.
They only made one episode. Hopefully, more are on the way.
4. Esto Matata
Imagine of some of the neighbours in Mejja's 'Jana Kuliendaje' and 'Landlord'  videos were given their own show, then you'll have Esto Matata.
There is the nosy neighbour who lives for your drama and has all the gosspip on the latest event even if they weren't present as it unfolded. Then there is the resident playboy (or girl…it depends) who has an insatiable appetite for the opposite sex and it's a wonder how they juggle so many relationships without ever getting caught. Last on the list is guy who has marital problems and is the joke of the estate.
Esto Matata is about all these characters, their lives in a shared compound and it's funny to watch.